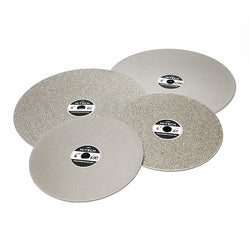 Electroplated diamond discs
SKU: 57-045
Hi-Tech Diamond electroplated diamond discs provide a flat grinding surface for both rough and fine grinding on stones and glass. Top-grade diamond powder is nickel electroplated uniformly onto a 1mm-thick steel disc, resulting in the highest quality disc available on the market. These diamond discs have a long lifespan because they are made of steel and are well-suited for more heavy-duty grinding. Diamond discs are used on our All-U-Need and Slant Cabber lap machines, and can be used on all other lap machines that accept 1/2″ arbors.
6″ and 8″ diameter discs are available in a large variety of different diamond grits. All diamond discs are available with or without a 3M pressure-sensitive, high-tack adhesive backing on the backside. Simply peel off the adhesive backing and apply to a backing plate for a permanent application.
Purchasing notes: Max RPM is 4,000. Discs require a backing plate. We recommend purchasing disc bushings with diamond discs that are not permanently bound to a backing plate, such as the discs without adhesive backings, to prevent all possible vibration and off-centered alignment that may occur.
Prop 65 warning for California residents
No fuss and always on time!
Great website, easy to find what you need, orders filled quickly and my products arrive fast! The disk I replace has been used a lot, amazed it lasted a few years. Great asset to the fused glass shop with my HiTech 8" Grinder.
Thank you, for being dependable!
Very nice
Very nice addition to my shop
Quality product
The discs I have gotten are doing a great job and are wearing well
diamond discs
they are great and will save the life of my other discs so i get a better shine on the stones i went with the discs that use the bushing and it makes it so i can just got from disc to disc with the same backer plate just make sure its clean before you put a differant disc on
Impeccably Good
When I saw the price of these, I felt as though they would be ok, at best. However, they exceeded my expectations, greatly. Sometimes, you do not get what you pay for, but in a good way. This is one of those times. I will keep buying through this company for all of my cabochon making needs.