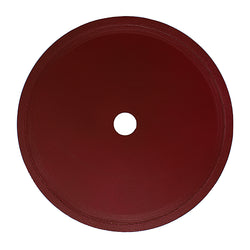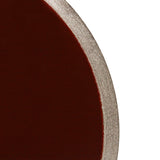 Thin sintered diamond saw blade
SKU: SS04
The extremely durable Hi-Tech Diamond thin sintered diamond saw blade is manufactured using premium diamond grit (325#/400#) that is secured into a metal bond, extending the full depth of the rim. This blade uses sintered technology, which increases their life span compared to notched rim saw blades because diamonds are continuously exposed as the edge of the blade wears away, cut after cut. Thin rims make these blades suitable for cutting and trimming material such as quartz, topaz, glass and fine agates.

All saw blades have 5/8" arbors and come with 1/2" bushings.
Important purchasing note: The 8" saw blade is black. This does not affect the performance of the blade. 
Please note: These diamond saw blades must be run with a lubricant such as water or oil. NEVER run dry! We recommend using a good quality cutting oil with these blades. To enhance the performance and life span of these blades, abide by the recommended operating speeds and spin-dry your blade after use to prevent any rusting.
very happy with this blade
with cold water, coolant, and dressing it with a brick these blades last quite a while for me. I cut mainly flint and agate with these.
Great blade!!
I use this blade for trimming lake Superior agate into small slabs and cutting into halves for face polishing. While it is a little small for large stones, it is absolutely magnificent on smaller stuff (for which it is designed). Couldn't be happier!!
Bendable
Loved my first one. Cut till the diamonds were almost gone. Second one, not so much. It bent on the second rock, and it wasn't even very hard. If I hadn't loved the 1st one, 0 stars. 10 inch
Hi C Shores - We are sorry to hear that this happened. We encourage you to reach out to us so that we can make this right. Our email address is sales@hitechdiamond.com and our phone number is (630) 596-9909. Thank you and we look forward to hearing from you!
My favorite blade
I use and abuse this blade. Cuts great.
Lasts a long time
I have cut a lot of rock on this blade and it is still going! I've cut a lot of harder rock too, such as Jasper. I'm impressed with its cutting and its saw life.