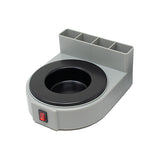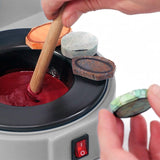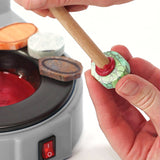 The DopStation is one of the best dopping systems available on the market. It not only melts dop wax in under 15 minutes, but keeps it softened at the right temperature. Advanced features makes this dop pot a popular tool and eases the cabbing process.
The DopStation dopping system features a lighted power switch for easy on/off indication, a storage space to store dop wax and dop sticks, and a wide bezel to easily pre-heat your stones. Its non-stick surface melts dop wax fast and keeps it at the right temperature while you work.
Specifications
Voltage and plug style:  Available in both 110V/115V U.S. plug only
Cord length:  6 ft
IMPORTANT PURCHASING NOTE: This is the DopStation pot ONLY. Dop sticks, dop wax and other tools are NOT included. If you wish to purchase this DopStation with dop wax and dop sticks included, check out our DopStation complete.
DopStation
A thoughtfully designed fully functional dop station.
Best investment to make.
Numerous products.
So far, all your products have been of good quality , and timely delivery.
New Dop Station
Works great! I was previously using coffee cup warmers so this is a vast improvement.
Dop Pot
I was familiar with this model from a studio where I taught lapidary. A big improvement over the old model. The "on" light is a great help as a reminder to shut it off when I am done using it. The warming edge is a big improvement over holding a stone over an open flame to heat it up.