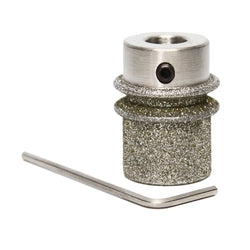 Fuse glass grinder bit
SKU: GB-FUSE-060-3/8
Hi-Tech Diamond fuse glass grinder bit is used for shaping and grinding the edges of glass pieces. But these grinder bits aren't just for glass. These workhorses are great for shaping all kinds of material, including stones, tile and ceramic!

We have a variety of different grits available, ranging from 60# to 600#, in sizes that fit 3/8" arbors. All grinder bits are 1" diameter and come with a set-screw Allen wrench and square-shaped sponge to keep your glass piece cool while you work.
Don't see the grit you want in the size you need? We have an adapter for that! Our glass grinder bit adapter is designed to convert glass grinder bits with 3/8" arbor holes into glass grinder bits with 5/16" arbor holes. This adapter makes it possible for all glass grinder bits to fit onto all lap machines.
IMPORTANT PURCHASING NOTE: The 3/8" arbor size grinder bits are specially designed to fit onto both All-U-Need rock/mineral and All-U-Need glass/crystal lap machines ONLY. Learn how to install and use glass grinder bits with the All-U-Need lap machine.

Prop 65 warning for California residents