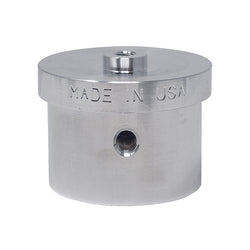 Lap machine arbor
SKU: ALL-ARBOR
The lap machine arbor fits onto the shaft of all Hi-Tech Diamond All-U-Need lap machine and Hi-Tech Diamond Slant Cabber lap machine. It secures the diamond discs and laps. What you see in the picture is exactly how it comes. Arbor fits both 6" and 8" models.
Included
Arbor - made of aluminum and comes pre-greased for easy installation
Set screw - installed inside the arbor and is used to tighten and loosen the arbor with a 1/8" Allen wrench
1/8" Allen wrench - used to tighten and loosen the set screw
Additional arbor information: Fits onto 3/8" motor shafts. The hole on top of the arbor is 1/2" to fit laps with 1/2" arbor holes. If you have an older machine and are not sure if this part will fit properly, please email sales@hitechdiamond.com or call us at 1 (630) 596-9909 and we will assist you.
IMPORTANT PURCHASING NOTE: This part is specially designed for use on Hi-Tech Diamond All-U-Need machines and Hi-Tech Diamond Slant Cabber machines ONLY.
Out with the old
This arbor seems nicer then the original that came with the machine. A little beefier and works great
Quality
Cant really review yet as i haven't used it hope i don't have to for a while but as you are so far away thought i had better keep a spare , along with the the screws for this and my trim saw
It is what it is
Had a bit of a struggle getting the new arbor on (100% our own fault, as the old arbor had bonded to the old motor). Once the old arbor was off, super easy process.
Whole process was nice and easy, great customer service, quick shipping, never been disappointed with Hi-Tech
Much-needed spare part
The arbor that came with my original All-U-Need machine was clearly worn out, causing my grinding discs and polishing pads to wobble and make noise. My new arbor has corrected that problem completely, restoring smooth grinding and polishing operation.