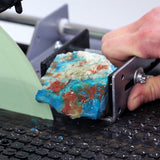 10" Slab saw vise
SKU: 22-333
Save your fingers! Our saw vise attachments secure your rock, mineral and glass pieces while you cut so you don't have to put your hands near the saw blade. Simply bolt this accessory on your Hi-Tech Diamond saw machine, secure your material, then manually advance the carriage to feed your material evenly into the saw blade. Get safe, precise cuts every time! Made exclusively for the Hi-Tech Diamond 10″ slab saw.
Important purchasing notes: This 10" slab saw vise is compatible with the Hi-Tech Diamond 10" slab saw ONLY. Saw vise is NOT gravity feed or hands-free; you need to manually advance the carriage into the saw blade to cut. Vise color may vary.
10 inch slab saw vise
Works well enough for me to cut smaller "non professional slabs" for hobby and practice work. Good for beginners to learn how to make straight cuts
Good slab saw
Saw cuts well. When it arrived we had to adjust and retighten some bolts on motor to help with blade alignment. Probably shifted during shipping? Since then it cuts straight. Recommend purchasing the guide vise. We've made many beautiful, straight and smooth cuts with this USA made saw.