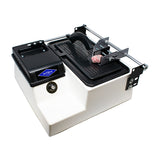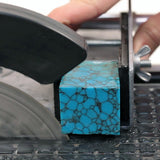 6" Trim saw vise
SKU: 22-331
Save your fingers! Our saw vise attachments secure your rock, mineral and glass pieces while you cut so you don't have to put your hands near the saw blade. Simply bolt this accessory on your Hi-Tech Diamond saw machine, secure your material, then manually advance the carriage to feed your material evenly into the saw blade. Get safe, precise cuts every time! Made exclusively for the Hi-Tech Diamond 6″ trim saw.
Important purchasing notes: This 6" trim saw vise is compatible with the Hi-Tech Diamond 6" trim saw ONLY. Saw vise is NOT gravity feed or hands-free; you need to manually advance the carriage into the saw blade to cut. Vise color may vary.
Nice bit of kit
Thought at first it was expensive for what it was, but it it very solid and fits easy and operates very easy and smooth not cut anything yet but I am sure it will do the job without difficulty
A note for the design team for the saw it needs a drain tap to assist in emptying, is I am very old and disabled would help a lot.
Cheers John
Accurate slicing/slabbing
When I ordered my 6" saw I got the vise with it. It is nice to cut slices as thin or as thick as you'd like. And the guide/vise assures that the slab is even and let's not forget this really helps with blade life.
When I need to do a simple cut or trimming facet rough the vise is easily swung over and out of the way without tools or having to remove it. This saw and it's vise will pay for itself with it's accuracy and thin blade kerf by saving costly material.
And one last thing- I've been cutting for decades and have used quite a few saws... Everything about this one is excellent; Quiet, powerful and easy to clean.
6in Trim Saw Vise
I have never cut without a vice, so I cannot compare the two methods of cutting. I will say that I have not had a problem with chipping or gouge marks with my cuts, while using the vise. Set up was easy and the vise has enough adjustment for various sized stones.