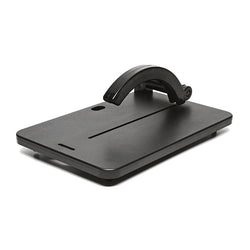 4"/5" Trim saw table and blade guard
SKU: 10-200
The 4"/5" trim saw table and blade guard is a replacement part for the 4″/5″ trim saw machine. The table and blade guard come pre-assembled and aligned, so there is no need for you to assemble the parts before use. What you see in the picture is exactly how it comes. Note: This part is compatible with the Hi-Tech Diamond 4"/5" trim saw machine ONLY.

Trim saw table and blade guard dimensions:  7-1/2" L X 4-3/4" W X 3" H. If you have an older machine and are not sure if this part will fit properly, please email sales@hitechdiamond.com or call us at 1 (630) 596-9909 and we will assist you.
Ill fitting
Pegs are off and platform must be forced. some of them will probably break off when removing unit to clean coolant sump. Splash guard had to be shimmed to fit slot. As received, the guard tilted over at 20 or so degrees from vertical with a VERY loose fit and too much slop to stay in the slot.
Hi Daniel - We are sorry to hear that you are not satisfied with your new saw table. We forwarded your review to our production manager to see what can be done about this part going forward. We encourage you to reach out to our customer service team at (630) 596-9909 or email us at sales@hitechdiamond.com should you have any further questions or concerns.