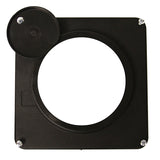 All-U-Need spray shield
SKU: ALL-SPRAY-6
The All-U-Need spray shield fits onto the white catch tray on the All-U-Need flat lap machine to prevent water from spraying you while you work. It comes with four adjustable screws and a built-in cup holder to hold the water cup. What you see in the picture is exactly how it comes. Make sure you choose the correct model size for your machine.

All-U-Need spray shield dimensions
6" All-U-Need: 9-1/2" L X 9-1/2" W X 2-1/2" H
8" All-U-Need: 9-1/2" L X 9-1/2" W X 3" H
If you have an older machine and are not sure if this part will fit properly, please email sales@hitechdiamond.com or call us at 1 (630) 596-9909 and we will assist you.
Want to transform your 6" All-U-Need into an 8" model or vice versa? It's easy! All you need to do is purchase your desired size spray shield and matching size discs.
IMPORTANT PURCHASING NOTE: This part is specially designed for use on Hi-Tech Diamond All-U-Need machines ONLY. This includes both All-U-Need rock/mineral and All-U-Need glass/crystal models.
Upgrade your 6" to an 8"
Get new backing plates and your in the groove