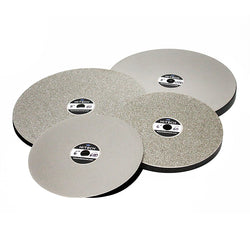 Electroplated diamond laps
SKU: 50-533
Hi-Tech Diamond electroplated diamond laps provide a flat grinding surface for both rough and fine grinding on stones and glass. Top-grade diamond powder is nickel electroplated uniformly onto a 1mm-thick steel disc. This diamond disc is then professionally bound to an acrylic backing plate, making it ready for use. Because the diamond disc is made of steel, these laps have a long lifespan and are well-suited for more heavy-duty grinding. These electroplated diamond laps are used on our All-U-Need and Slant Cabber lap machines, and can be used on all other lap machines that accept 1/2″ arbors.
6" and 8" diameter laps are available in a large variety of different diamond grits. All laps have 1/2" arbor holes.
Please note: Max RPM is 4,000.
Prop 65 warning for California residents
Work Great
Very happy with the laps, they work great!! I now own 3, a 60, 100 & the 180 that came with cabber.
They all have a place in the process but mainly use the 60 and 180.
The Diamond plate was not properly glued to the the lap so it's off center and is causing my machine to shake. I took a video but can't upload it.
Hi Jordan - We are sorry to hear that the diamond plate is not properly centered with the backing plate. We encourage you to reach out to us so that we can send you a replacement. Our email address is sales@hitechdiamond.com and our phone number is (630) 596-9909. Thanks and we look forward to making this right for you!
Works Great
Great quality product you have a customer for life
Just what I needed
So far so good. Great quality for price. Great initial cuts on rocks for cabachons.
#60 disk
It is a beast when you need some heavy grinding. Not recommended for softer rocks.