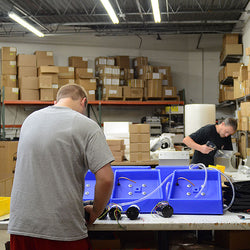 Hi-Tech Diamond repairs
SKU: 10-004
Need a repair on your Hi-Tech Diamond machine or need a new motor? Our qualified technicians will take care of you and your machine. All Hi-Tech Diamond repairs are done in-house by our skilled technicians. We will evaluate your entire machine and replace all electrical components with new parts. You will also receive a new, one-year warranty on all replaced parts that we install in your machine.
To order Hi-Tech Diamond repairs, simply select what machine you are sending us and click "Add to cart." From there, proceed to checkout. Once you have completed your order, ship us your machine and a printout of your invoice to:
Hi-Tech Diamond
ATTN: Repairs
44 Plaza Drive
Westmont, IL 60559
Shipping your machine to us will be at your expense, but we will ship your repaired machine back to you at no cost. Once we receive your machine, it will take 3-5 business days to complete the repair.
Important notes:
Due to the technical nature of our machines, we do not offer spare parts for you to install yourself such as motors, speed controllers, rectifiers, etc.
Our technicians replace the machine's electrical components ONLY. Your machine's arbor must be removed from the shaft before shipping to us otherwise an additional charge will be added to your invoice for a replacement arbor.
Your machine's motor shaft must be 3/8" in size or we can't repair your machine. Some of our older machines have a different size motor shaft so if you are unsure if your machine qualifies for a repair, please email us at sales@hitechdiamond.com or call us at 1 (630) 596-9909 and we will assist you.
International customers (non-USA): Should you need a repair on your machine, we highly encourage that you find a local mechanic to save you shipping costs. If you need to send us your machine for repair, all shipping costs are at your expense.
Terrible
I bought the 8 " slabber glass polishing machine in January 2023, it is still under guarantee , it has stopped working and the company has not replied to my email after a month. Don't buy this machine as you get no after sales assistance and they are not cheap
Hi Heather - We are sorry to hear that you are having trouble with your Slant Cabber. Our customer service team emailed you back on October 23rd. We never received a reply back. We encourage you to take a look at that email or reach out to us so that we can make it right for you. Our email address is sales@hitechdiamond.com and our phone number is (630) 596-9909. Thank you and we look forward to hearing from you!
Very Satisfied
When my saw stopped working, I went online to Hi-Tech and easily found out how to deal with my situation. I sent my saw to them and had it back within a week, running beautifully!
Extremely fast and positive experience .
There and back in a week. Excellent . I spoke to one of the service reps and it was the best customer service experience of the year. Very polite and helpful . Five Stars
Saw works great !!
Quick and Well Done
I couldn't say enough positive things about my experience with repairs with Hi Tech. The communication was excellent and the timeframe from the unit leaving my door to it returning completely repaired was 8 days. In my opinion that was impressive.
Professional and Trusted
My lapidary saw kept blowing a fuse. I emailed Hi-Tech and they pretty much figured it needed a new motor , as we suspected. I paid for the total repair service online and mailed my saw. It was very quick and easy. They even held my machine the week of Thanksgiving because we headed out of town to be with family. Hi-Tech mailed my repaired machine to arrive after we came back home. I can not thank them enough for the work they do. They gave me peace of mind and I did not have to worry about anything. I will always purchase my saws and blades from them. Great job!
Kim