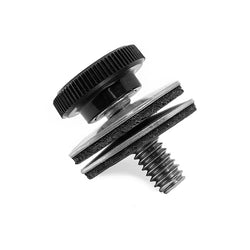 Lap machine knob
SKU: LAP-KNOB
The lap machine knob screws into the arbor on the Hi-Tech Diamond All-U-Need and Slant Cabber lap machines. Each knob comes with two rubber-backed washers that secures the discs and flat laps onto the arbor of the machine.

Lap machine knob dimensions: 1/4"-20 thread, 3/4" long. If you have an older machine and are not sure if this part will fit properly, please email sales@hitechdiamond.com or call us at 1 (630) 596-9909 and we will assist you.
IMPORTANT PURCHASING NOTE: This part is specially designed for use on Hi-Tech Diamond All-U-Need and Slant Cabber machines ONLY. This includes both All-U-Need rock/mineral and All-U-Need glass/crystal models, and both Slant Cabber rock/mineral and Slant Cabber glass/crystal models.
Just what I needed
I bought the lap machine knob for my old Gryphon Lapidary Workshop flat lap that was missing the knob. It works like a charm! I also really appreciated how helpful customer support has been answering all my lapidary questions and helping me find the right products.
I'm unsure why the knob comes with two rubber washers though. Is it just a spare?
Hi Ryan - We are glad to hear that our lap knob works on your Gryphon machine. We include two rubber washers just in case you need an extra tight fit. If one washer works for you, keep the second as a spare.