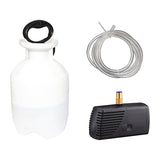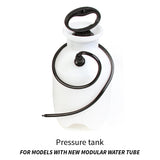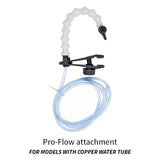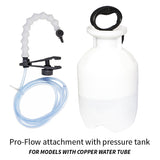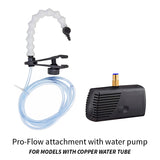 Pro-Flow water cooling system for Slant Cabber
SKU: 80-005
Our Pro-Flow water cooling system increases your water reservoir capacity on the Slant Cabber lap machine. That means hours of drops without having to refill!
You can order the Pro-Flow attachment by itself or combined with either a one-gallon pressure tank or a submersible water pump. The pressure tank provides hours of drips with the occasional priming, while the submersible water pump lasts even longer in a five-gallon bucket.

Dimensions: Tubing's outer diameter measures 1/4".
Power: The submersible water pump is available in both 110 volts and 220 volts.
IMPORTANT PURCHASING NOTES: Make sure you choose the correct Pro-Flow model for your Slant Cabber. All Slant Cabber machines manufactured after January 1st, 2017 are made with a white, modular water tube. All Slant Cabber machines manufactured before January 1st, 2017 were made with a copper water tube. Check your machine before purchasing the Pro-Flow. If you are purchasing the Pro-Flow with a Slant Cabber machine, you have the model with the white, modular water tube. This Pro-Flow water cooling system is specially designed for use on Hi-Tech Diamond Slant Cabber machines ONLY. This includes both Slant Cabber rock/mineral and Slant Cabber glass/crystal models.
Great upgrade.
After years of using my slant cabber I finally got the submersible pump. I can now work for extended periods without worrying about adding more water.
water system
I really like it. I dont have to be constantly filling the water well. very conveinent.
Water pump
Works well, I usually work on several cabs at once and with the pump I don't have to be constantly changing the water.
water pump with tubing
works great! used it to create a recycling water supply for my slant cabber