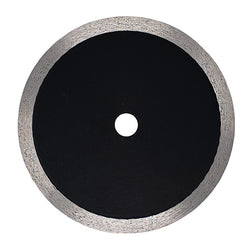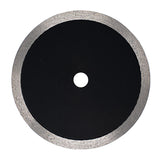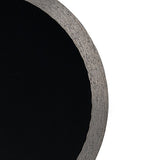 Thick sintered diamond saw blade
SKU: SBK06
The Hi-Tech Diamond black, thick sintered diamond saw blade is manufactured using premium diamond grit (270#/325#) that is secured into a metal bond, extending the full depth of the rim. This blade uses sintered technology, which increases their life span compared to notched rim saw blades because diamonds are continuously exposed as the edge of the blade wears away, cut after cut. Thick kerfs and stiff cores make these blades suitable for industrial lapidary cutting and slabbing agates, geodes, tile and ceramic.

All saw blades have 5/8" arbors and come with 1/2" bushings.
Please note: The 6" and 8" saw blades look different than the 10", yet serve the same purpose. These blades must be run with a lubricant such as water or oil. NEVER run dry! We recommend using a good quality cutting oil with these blades. To enhance the performance and life span of these blades, abide by the recommended operating speeds and spin-dry your blade after use to prevent any rusting.
Great blade
cut some jade in 1/10 the time as my old saw.
Disappointed
I used the 10" black blade for 4 cuts, and it's completely smooth and won't cut anything now. I don't understand, 2 small agates and it's worn out. Please advise.
Hi James - We are sorry to hear that this blade is not meeting your expectations. Have you tried sharpening the blade? Since the blade is sintered, you can sharpen the blade to expose more diamonds, thus resulting in a sharper cut instead of dull. We encourage you to reach out to us so that we can assist you. Our email address is sales@hitechdiamond.com and our phone number is (630) 596-9909. Thank you and we look forward to hearing from you!
Good, heavy-duty blade!
So far, this blade is working great. Thick and cuts well, I'm happy with it.
Nice Blade
Cuts well but there is more blade deflection than I would like when cutting agate. Still a novice at stone cutting but I expected a larger increase in rigidity when compared to thinner blades.
Heavy duty
Thick and cuts well BUT I like the thin one better for what I use it for.