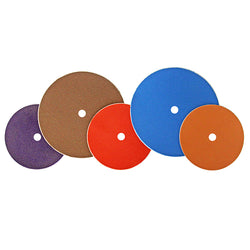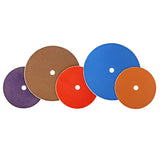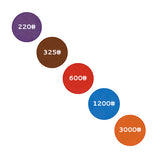 Diamond smoothing discs
SKU: 30-021
Important purchasing note:

These smoothing discs are sold individually.
Hi-Tech Diamond diamond smoothing discs ensure rapid removal of scratches and high spots on cabochons. They also smooth large, flat areas in channel inlay work and are perfect for smoothing, refining and polishing a wide range of material such as glass, gemstones, synthetic material and even metal. These diamond smoothing discs come with our All-U-Need rock/mineral and Slant Cabber rock/mineral lap machines.
Using a proprietary technique, Hi-Tech Diamond diamond smoothing discs use a high concentration of premium diamond that is loaded onto each disc to provide an extremely aggressive grinding rate yet leaves an exceptionally smooth surface finish. Each disc is color-coded to easily determine what grit the disc is. These diamond smoothing discs are guaranteed to out-perform silicon carbide sanding discs and other diamond compound finishing systems. They do not crack or peel.
6"- and 8"-diameter diamond smoothing discs are available. All discs come with a 1/2" arbor hole and 3M pressure-sensitive adhesive backing that bonds to backing plates, flexible discs and polishing heads. Optional sponge pads may be inserted under these smoothing discs to create a soft touch for cabochon work.
Please note: You will need a backing plate to use these smoothing discs.
Worked like a Champ
Smoothing disks from Hi-Tech Diamond do actually work as advertise . The finish on the stones is fantastic
Best Quality for Stones
These polishing pads do the job and last longer than other manufacturer's pads I've bought elsewhere. But be aware that if you use a foam pad underneath these, on a Hi-Tech backing plate, you can only mount a single polishing pad on each plate. If you mount both foam and polishing pads on both sides of a plate, the plate then becomes too thick to mount on an All-U-Need Slant Cabber because the lap machine knob's screw shaft isn't long enough. But you can mount polishing pads alone on both sides of a backing plate, since the knob's shaft is long enough to attach the plate to the Slant Cabber.
Work Great
Ended up buying the grits that didn't come with cabber, I like having the full set to do the job.
They work good, hopefully they last!
Awesome
The 3000 grit diamond smoothing pad is just what I needed to get the finish I wanted. Coupled with the foam pad and the finish is smooth and edge free
AWESOME
Once thru the learning curve this is an awesome product and machine