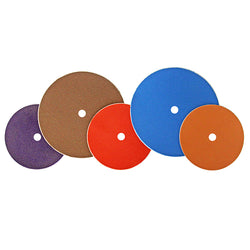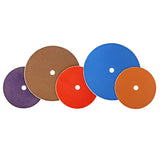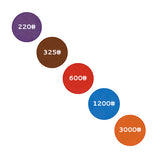 Diamond smoothing discs
SKU: 30-021
Important purchasing note:

These smoothing discs are sold individually.
Hi-Tech Diamond diamond smoothing discs ensure rapid removal of scratches and high spots on cabochons. They also smooth large, flat areas in channel inlay work and are perfect for smoothing, refining and polishing a wide range of material such as glass, gemstones, synthetic material and even metal. These diamond smoothing discs come with our All-U-Need rock/mineral and Slant Cabber rock/mineral lap machines.
Using a proprietary technique, Hi-Tech Diamond diamond smoothing discs use a high concentration of premium diamond that is loaded onto each disc to provide an extremely aggressive grinding rate yet leaves an exceptionally smooth surface finish. Each disc is color-coded to easily determine what grit the disc is. These diamond smoothing discs are guaranteed to out-perform silicon carbide sanding discs and other diamond compound finishing systems. They do not crack or peel.
6"- and 8"-diameter diamond smoothing discs are available. All discs come with a 1/2" arbor hole and 3M pressure-sensitive adhesive backing that bonds to backing plates, flexible discs and polishing heads. Optional sponge pads may be inserted under these smoothing discs to create a soft touch for cabochon work.
Please note: You will need a backing plate to use these smoothing discs.
AWESOME
Once thru the learning curve this is an awesome product and machine
Just like buttah!
These are the best. I ordered from a different place because I would save a little cash, big mistake. Hi Tech is worth every penny. Don't order from any other establishment!
Good but draw backs
They good quality but work better if you buy the under padding as well. Especially for the higher grits. They also tend to catch filings and dust more so than the metal disk that when built up can cause scratching.. Not sure if there is a way to "clean them" to prevent this.
Overall average.
I completed about a dozen stones and at first the pad worked well but wore down quicker than I expected.
Hi Kyle - Thank you for your feedback. We encourage you to reach out to our customer service team at (630) 596-9909 or email us at sales@hitechdiamond.com so that we can assist you with our diamond smoothing discs and to see why they are wearing down fast for you. Thanks and we look forward to hearing from you!