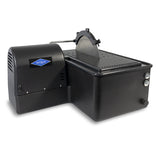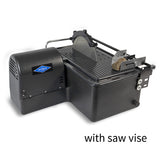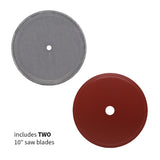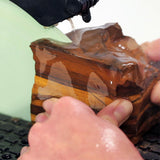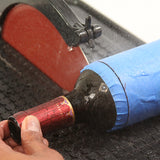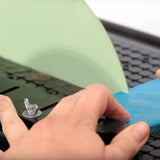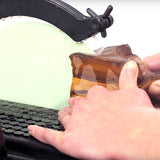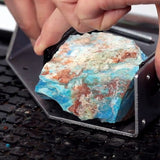 Important purchasing note:

This machine currently has a 5-7 business day lead time due to high demand. We are sorry for this delay, but we promise it's worth the wait!
Our American-made 10″ slab saw is a powerful, economical saw machine that is used for slabbing larger rocks, minerals and glass into more manageable pieces. This saw includes TWO different types of 10″ saw blades to best-suit your cutting material; one notched diamond saw blade and one sintered diamond saw blade. Saws are available with or without the saw vise accessory.
The Hi-Tech Diamond 10" slab saw is manufactured with a 5/8" arbor and will accept any 10" saw blade that has a 5/8" arbor. The large, removable saw table gives you plenty of room and allows for some carving ability, measuring 19-3/4" L X 12" W. The housing is made of unbreakable, cross-linked polyethylene that makes it rustproof and easy to clean. Installed in each slab saw is a 1/3 hp motor to provide plenty of strength for large cuts, delivering a speed of 1,725 rpm. The coolant reservoir is built right into the base of the machine. Simply drain the reservoir with the built-in drain plug, which makes cleanup fast and easy. The splash guard that comes with the machine keeps water off you and on your piece, making it easier for you to work.
This Hi-Tech Diamond 10" slab saw machine comes with TWO different types of 10" saw blades to best-suit your cutting material. The notched diamond saw blade is designed for slabbing large rocks and minerals such as agates, jades and geodes, while the sintered diamond saw blade is designed for cutting large pieces of glass, topaz, quartz and fine agates.
Electricity supply
Make sure you choose the right power supply for your machine. The 220 volt models are available only for overseas customers that require 220V - 240V power supply. All 220 volt models are manufactured with this CE rated, Type F plug (see below):
International customers
We are not responsible for any import duties or customs charges. Any such fees incurred to receive your package are not covered by us. Please consult your country's customs policy for more information.
10" slab saw specifications
Machine dimensions: 19" L X 21" W X 12" H
Machine weight: 35 lbs
Saw housing construction: rustproof, cross-linked polyethylene
Motor type: 1/3 hp motor
Motor voltage: 115V or 220V
Saw blade height: 3-3/4"
Saw blade depth: 9-3/4"
Country of origin: U.S.A.
Shipped from: U.S.A.
Optional accessories
The 10" slab saw is available with or without the saw vise. This useful accessory is a precision tool that secures and holds your valuable material while you cut. All you have to do is manually advance the carriage to feed your material into the saw blade. This is a great tool if you don't want your hands near the blade or if you require very precise cuts. Installation is fast and easy. Make sure to check out our other useful saw accessory, the saw fence!
Extended warranty program
You're about to make a smart investment by purchasing a Hi-Tech Diamond 10" slab saw machine so protect it with our extended warranty program. Our extended warranties extend the one-year manufacturer warranty that is included with the 10" slab saw. Choose from either a one- or two-year warranty extension. We recommend purchasing this extended warranty at the same time you purchase your Hi-Tech Diamond machine.
Too many design flaws
The biggest issue is that the set screws holding the arbor to the motor shaft are insufficient to keep it from sliding to the side while cutting. Numerous other issues made it unusable for me. Saw jammed on a 1cm thick agate even when I was being as careful as I could. No backsplash, water pools quickly on your table. The drain stopper is barely held in place, one slight touch it will fall out and water spills everywhere. The table top is just sitting on a few rubber spacers and so it bounces around as you cut. The end of the arbor is held in a metal cylinder, no ball bearings, very high metal on metal friction.
Hi Dylan - We are sorry to hear that you are experiencing so many issues with our 10' saw. We encourage you to reach out to us so that we can better assist you and troubleshoot these issues. Our email address is sales@hitechdiamond.com and our phone number is (630) 596-9909. Thank you and we look forward to hearing from you!
Just having fun!! MM
We purchased the 10" slab saw works great for stones and very hard stones so happy with their products and costumer service for anything. Jennifer is awesome!! Keep on cutting
Works Great
The saw runs smooth and quiet. Blades that come with it handle up to 6.0 hardness no problem. If working agates, etc... 7.0 and up I suggest buying the thick, sintered blade. Very happy so far!
Très bon achat
Très satisfait de votre appareil que j´ai acheté après avoir visionné des youtubeurs américains qui sciaient des agates sur tik tok et autres...
Je suis dans les Pyrénées orientales les pierres sont très dures granites et silice
Votre machine fait le job !!!
Envio internacional
Ojala puedan hacerla y venderla para otros paises, pues esta máquina me parece genial por su diseño y capacidad, pero no envían a Chile y me obligado a comprar una maquina china similar, pero con menor capacidad