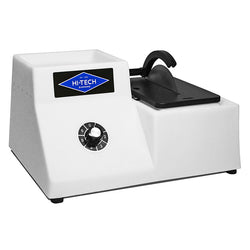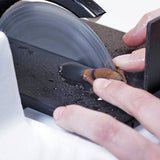 4"/5″ Trim saw
SKU: 22-227
Our American-made 4″/5″ trim saw makes the perfect saw for trimming-out cabochon preforms in rocks, minerals and glass, or to cleanly trim smaller faceting material. This saw includes TWO different size saw blades, one 4″ and one 5″ silver notched diamond saw blade. Two different size saw blades gives you two different blade height options to accommodate the height of your cutting material.
The Hi-Tech Diamond 4"/5" trim saw is manufactured with a 5/8" arbor and will accept any 4" or 5" saw blade that has a 5/8" arbor. The saw table has a generous work area, measuring 7-1/2" L X 4-3/4" W. The housing is made of unbreakable, cross-linked polyethylene that makes it rustproof and easy to clean. Installed in each saw is a 1/4 hp, heavy-duty, direct drive permanent magnet motor with sealed ball bearings. The motor is variable speed and can deliver speeds from 800 to 3,400 rpm. The coolant reservoir is built right into the base of the machine and can hold up to 8 ounces of water. The removable saw table that covers the reservoir makes cleanup easy. The splash guard that comes with the machine keeps water off you and on your piece, making it easier for you to work.
This Hi-Tech Diamond 4"/5" trim saw machine comes with TWO different size silver notched diamond saw blades. The included 4" blade allows you to cut a maximum height of 1". The included 5" saw blade allows you to cut a maximum height of 1-1/2". These saw blades are designed for cutting and trimming rock material such as turquoise, aqua, garnet, corundum, emerald and ruby.
Electricity supply
Make sure you choose the right power supply for your machine. The 220 volt models are available only for overseas customers that require 220V - 240V power supply. All 220 volt models are manufactured with this CE rated, Type F plug (see below):
International customers
We are not responsible for any import duties or customs charges. Any such fees incurred to receive your package are not covered by us. Please consult your country's customs policy for more information.
4"/5" trim saw specifications
Machine dimensions: 13" L X 9-1/2" W X 7" H
Machine weight: 10 lbs
Saw housing construction: rustproof, cross-linked polyethylene
Motor type: 1/4 hp variable speed direct drive motor with speeds ranging between 800 rpm - 3,400 rpm
Motor voltage: 115V or 220V
4" saw blade height: 1"
5" saw blade height: 1-1/2"
4" saw blade depth: 3-1/4"
5" saw blade depth: 4-1/2"
Country of origin: U.S.A.
Shipped from: U.S.A.
Extended warranty program
You're about to make a smart investment by purchasing a Hi-Tech Diamond trim saw machine so protect it with our extended warranty program. Our extended warranties extend the one-year manufacturer warranty that is included with the trim saw. Choose from either a one- or two-year warranty extension. We recommend purchasing this extended warranty at the same time you purchase your Hi-Tech Diamond machine.
Does the job
I'm new to lapidary so I don't have anything to compare this to. It does what I need to cab.
Awesome Trim Saw
This small space saving yet economical trim saw is what every lapidary hobbyist needs in there studio.
Great little saw
I purchased this trim saw to compliment my 10" HiTech Diamond slab saw and it is perfect for my smaller workings. It's even made an appearance on YouTube already! Easy to work with, cuts faster than you'd think with the thin sintered blade. Highly recommend, great saw for a great price. Overall satisfied with all of my Hi Tech Diamond products, it's hard to find well built products anymore and Hi Tech builds these things to last.
I haven't used this yet.
I haven't gotten to use my hi-tech diamond saw. I called customer service to let them know my blades that were sent are bent. I haven't received new blades or had the company reach back out to me. I will most likely be sending this back.
Hi Robyn - Sorry we missed your initial call. Our customer service team confirmed that they spoke to you this morning to get this resolved. We hope you love your new saw!
Love it
Love everything about this saw! I ordered 5 inch blades from Amazon and the middle hole is larger than the originals which doesn't allow it to be flush mounting it on where you tighten and secure it. PLEASE HELP! WANT TO USE IT MORE
Hi David - We are so happy to hear that you love your trim saw! We encourage you to reach out to our customer service team at (630) 596-9909 or email us at sales@hitechdiamond.com so that we can assist you with replacement blades. Thanks and we look forward to hearing from you!