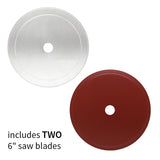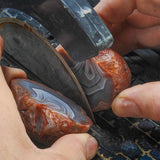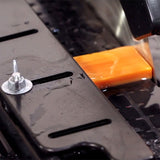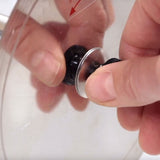 Our American-made 6″ trim saw is the perfect saw for trimming-out cabochon preforms in rocks, minerals and glass, or to cleanly trim facet material. This saw includes TWO different types of 6″ saw blades to best-suit your cutting material; one economy silver notched diamond saw blade and one premium, long-lasting red sintered diamond saw blade. Saws are available with or without the saw vise accessory.
The Hi-Tech Diamond 6" trim saw is manufactured with a 5/8" arbor and will accept any 6" saw blade that has a 5/8" arbor. The saw table has a large work area, measuring 15-1/2" L X 9" W. The housing is made of unbreakable, cross-linked polyethylene that makes it rustproof and easy to clean. Installed in each saw is a 1/4 hp, heavy-duty, direct drive permanent magnet motor with sealed ball bearings. The motor is variable speed and can deliver speeds from 800 to 3,400 rpm. The coolant reservoir is built right into the base of the machine and can hold up to 16 ounces of water. The removable saw table that covers the reservoir makes cleanup easy. The splash guard that comes with the machine keeps water off you and on your piece, making it easier for you to work.
This Hi-Tech Diamond 6" trim saw machine comes with TWO different types of 6" saw blades to best-suit your cutting material. The silver notched diamond saw blade is designed for cutting rocks and minerals such as turquoise, aqua, garnet, corundum, emerald and ruby, while the red sintered diamond saw blade is designed for cutting pieces of glass, topaz, quartz and fine agates.
Electricity supply
Make sure you choose the right power supply for your machine. The 220 volt models are available only for overseas customers that require 220V - 240V power supply. All 220 volt models are manufactured with this CE rated, Type F plug (see below):
International customers
We are not responsible for any import duties or customs charges. Any such fees incurred to receive your package are not covered by us. Please consult your country's customs policy for more information.
6" trim saw specifications
Machine dimensions: 17" L X 17" W X 11" H
Machine weight: 15 lbs
Saw housing construction: rustproof, cross-linked polyethylene
Motor type: 1/4 hp variable speed direct drive motor with speeds ranging between 800 rpm - 3,400 rpm
Motor voltage: 115V or 220V
Saw blade height: 1-3/4"
Saw blade depth: 5-1/4"
Country of origin: U.S.A.
Shipped from: U.S.A.
Optional accessories
The 6" trim saw is available with or without the saw vise. This useful accessory is a precision tool that secures and holds your valuable material while you cut. All you have to do is manually advance the carriage to feed your material into the saw blade. This is a great tool if you don't want your hands near the blade or if you require very precise cuts. Installation is fast and easy. Make sure to check out our other useful saw accessory, the saw fence!
Extended warranty program
You're about to make a smart investment by purchasing a Hi-Tech Diamond trim saw machine so protect it with our extended warranty program. Our extended warranties extend the one-year manufacturer warranty that is included with the trim saw. Choose from either a one- or two-year warranty extension. We recommend purchasing this extended warranty at the same time you purchase your Hi-Tech Diamond machine.
6" High Tech Trim saw
Works great, Free handed a geode, cut beautifully. Vised a 3 X 5 rhodonite and free handed the balance. Worked as good as a slab saw on moderate stones.
Really surprised how versatile this little fellow is. Biggest surprise, I came away dry. Every other saw I used in the past seemed intent on drenching me. Looks like I fell into the Mississippi.
Not this one, a feint sign of misting about 6" around the work area and a mild forward spray from the blade was all there was. Terriffic! One single paper towel handles the clean up.
I am using it indoors and it is quiet. Slightly louder when cutting stone, but not disruptive to normal conversation. Its a winner, it's light, it's portable, and it does the job and does it well.
I love it
A little worried at first as there was a sponge between the arbor and housing and wasn't sure if it was part of it so I called and it wasn't so as soon I I dug it out, it worked perfectly.
More sturdy than you think as it's mostly very hard plastic but that makes it light enough for me to easily move it. Very happy!
everything is perfect
order and delivery in France very fast , the saw is perfect ! thank you for your professionalism
Brilliant
Fast international delivery, super impressed! Machine works well. An 8 inch blade would be a real step up though as some of my rocks are a smidge too big.
Does what it's supposed to, wife is having fun with it.