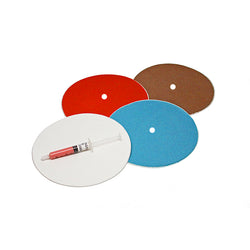 Rock/mineral disc kit
SKU: 30-300
The Hi-Tech Diamond rock/mineral disc kit comes with everything you need to polish rocks, minerals, synthetic material and metal. It is the same kit that is included with the All-U-Need rock/mineral model and Slant Cabber rock/mineral model lap machines. This kit is great for replacing all of your diamond smoothing discs at once. Both 6″ and 8″ diameter size kits are available with and without backing plates.
The diamond smoothing discs included in this kit ensures rapid removal of scratches and high spots on cabochons. Using a propriety technique, a high concentration of premium diamond is loaded onto each disc to provide an extremely aggressive grinding rate yet leaves an exceptionally smooth surface finish. Each disc is color coded to easily determine what grit the disc is. These smoothing discs are guaranteed to out-perform silicon carbide sanding discs and other diamond compound finishing systems. Depending on the care and material you are working with, these discs on average will last for 100 to 200 pieces. They do not crack or peel either.
Our Tech-11 polishing pad and diamond paste included in this kit ensures a nice polish on your finished pieces. The Tech-11 polishing pad is made with high-density wool felt to replace leather pads. You must charge this pad with diamond compound before use.
All discs included in this kit come with a 3M pressure sensitive adhesive backing that easily bonds to backing plates, flexible discs and polishing heads. Discs also have 1/2" arbor holes. Our sponge pads may be inserted under these smoothing discs to create a soft touch for cabochon work. Note: You need a backing plate to use these diamond smoothing discs and Tech-11 polishing pad.
Diamond smoothing disc kit WITHOUT backing plates include:
Diamond smoothing disc kit WITH backing plates include:
IMPORTANT PURCHASING NOTES: This rock/mineral disc kit can be used on any Hi-Tech Diamond All-U-Need and/or Hi-Tech Diamond Slant Cabber. It is also specially designed to grind, shape and polish rocks, minerals, synthetic material and metal. If you plan on polishing glass and/or crystal, we suggest purchasing the glass/crystal disc kit. This rock/mineral disc kit does NOT include the 180# electroplated diamond lap; those are available for purchase in a variety of different grits here.
More than happy.
I have the angle cabbing machine and purchased the rock and mineral discs after I mistakingly ordered the glass and crystal discs. The rock and mineral discs produce a better polish for rocks and minerals. I was having a hard time getting a good polish when using the wrong discs which is totally understandable. However, they did work great for quick grinding and flattening before getting to the polish stages. Overall I like the simplicity, reliability and ease or using the angle cabbing machine. It's easy and quick to change discs, adjustable speed is great and the water delivery by gravity it super reliable and require no real maintenance. It can also be upgraded to a mechanical pump which shows forward thinking and adaptability. Being made in the USA is also great to see and the craftsmanship is excellent.
Looking forward to trying them.
Haven't had a chance to use them yet. I'm sure I'm going to be happy with the results. Turned my drill press into a flat lap machine. Eventually I will purchase a real one from Hi Tech......
great style
Bought these for my son-in-law who is an avid rock collector even at age 32! Shipping and ordering was an ease and its exactly what he asked for
Excellent Products
I have been using these polishing pads for two years and they never disappoint me. They are long lasting and leave my rocks looking fantastic!
Good quality discs
Shipping arrived when promised and discs are good quality.
I have the all u need 6" slant machine and have made over 100 pendants plus earrings.
I get fantastic results with beautiful polished stones with this machine.