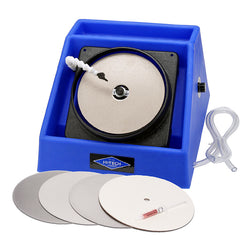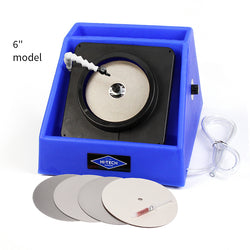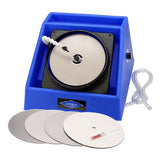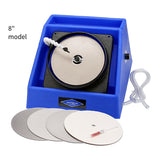 Slant Cabber (glass/crystal model)
SKU: 20-011
Our American-made Slant Cabber lap machine is a uniquely-angled, flat lap machine that makes an excellent tool for cold working art glass. Grind, shape and polish glass and crystals to make free-form shapes and cabochons for necklaces, earrings, rings and other jewelry pieces. Create polished windows in glass marbles or beads. The Slant Cabber also makes the perfect workbench tool for cold glass workers and glass fusers, as it gives your glass projects smooth edges with a professional, finished look. The Slant Cabber is available in both 6″ and 8″ models and comes with an accessory kit specially designed for grinding, shaping and polishing glass and crystal. If you plan on polishing rocks, minerals and/or metals, we suggest purchasing the Slant Cabber rock/mineral model.
The Hi-Tech Diamond Slant Cabber lap machine is manufactured with a 1/2" arbor and powered by a 1/4 hp, heavy-duty, ball bearing, DC motor. This motor is variable speed so you can work at whatever pace you desire, delivering speeds from 800 rpm to 3,400 rpm. This portable machine can be used anywhere. Whether you're at home, in the shop or on the road, this quiet machine won't disturb others around you. It's lightweight, rustproof and impact-resistant, making it even easier to travel with.
The water reservoir, which holds about a quart of water, prevents heat buildup while you work and removes dust particles so you don't inhale any harsh chemicals. Our innovative, durable water tube has a water control valve so you can control the water flow while you work. The black splash guard keeps water off you so you don't get soaked while you work. Cleanup is as simple as it gets: Just flush the bottom water reservoir with clean water and you're ready to work again.
Electricity supply
Make sure you choose the right power supply for your machine. The 220 volt models are available only for overseas customers that require 220V - 240V power supply. All 220 volt models are manufactured with this CE rated, Type F plug (see below):
International customers
We are not responsible for any import duties or customs charges. Any such fees incurred to receive your package are not covered by us. Please consult your country's customs policy for more information.
This Slant Cabber lap machine comes with a glass/crystal accessory kit that allows you to work right out of the box. Our grinding and polishing process makes easy work of grinding, shaping and polishing glass and crystal. The electroplated diamond discs are easily interchangeable and only require ONE backing plate for all four discs.
Glass/crystal accessory kit includes
Machine includes
Slant Cabber specifications
Machine dimensions: 13-1/2" L X 15" W X 11" H
Machine weight: 12 lbs
Machine housing construction: rustproof, cross-linked polyethylene
Motor type: 1/4 hp variable speed direct drive motor with speeds ranging between 800 rpm - 3,400 rpm
Motor voltage: 115V or 220V
Country of origin: U.S.A.
Shipped from: U.S.A.
Want to increase the water reservoir capacity?
Our Pro-Flow water cooling system offers two innovative ways to accomplish this and will provide you with hours of drips and use. Choose from either a one-gallon pressure tank or a submersible water pump.
Extended warranty program
You're about to make a smart investment by purchasing a Hi-Tech Diamond Slant Cabber machine so protect it with our extended warranty program. Our extended warranties extend the one-year manufacturer warranty that is included with the Slant Cabber. Choose from either a one- or two-year warranty extension. We recommend purchasing this extended warranty at the same time you purchase your Hi-Tech Diamond machine.
Awesome machine
I Am very happy with my decision to make this purchase. I have been using a belt sander to make cabochons with and this machine makes it so much easier. The variable speed makes working with different density rocks and gems a breeze. The watering system is perfect, the revivor is just enough to force you to take a break, otherwise I would never stop working with it lol ( wife's words not mine lol ) Jenn in customer service was awesome to talk with, as I had a question about the machine, and she returned my call and addressed my issue in a very timely and plesant manner. I have High regards for this company! Good product and customer service, something lacking a lot of businesses these days
Fantastic, does exactly what I bought it for , smoothing cut wine bottle edges. Fast delivery. Just need to know how long the discs lasts?
Hi Heather - We are so glad to hear that you are enjoying your new Slant Cabber! The electroplated discs will be most aggressive when brand new, and then will settle into a 'broken in' state for quite some time. It is very difficult to say exactly how long the discs will last, as that will depend on the number of bottles, size of the bottles, and technique used. Be sure to do your best to utilize the full surface. Use plenty of water and a steady, but not too hard pressure to get the best longevity from your discs. You may find that you will need to replace the 360# first if that is the discs you spend the most time on. We hope this is helpful!