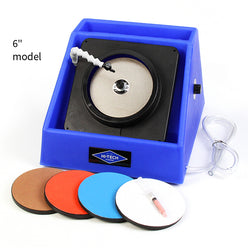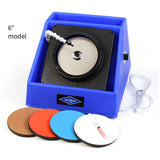 Slant Cabber (rock/mineral model)
SKU: 20-005
Our American-made Slant Cabber lap machine is a uniquely-angled, flat lap machine. Grind, smooth and polish rocks and minerals to make free-form shapes and cabochons for necklaces, earrings, rings and other jewelry pieces. Create flats for larger pieces or on the backs of cabochons. It's also well-suited for polishing a large variety of natural and synthetic gem material, enamels and metals. The unique, angled design provides improved visibility and allows you to sit while you work instead of standing. The Slant Cabber is available in both 6″ and 8″ models and comes with an accessory kit specially designed for grinding, smoothing and polishing rocks and minerals. (If you plan on polishing glass and/or crystal, we suggest purchasing the Slant Cabber glass/crystal model.)
The Hi-Tech Diamond Slant Cabber lap machine is manufactured with a 1/2" arbor and powered by a 1/4 hp, heavy-duty, ball bearing, DC motor. This motor is variable speed so you can work at whatever pace you desire, delivering speeds from 800 rpm to 3,400 rpm. This portable machine can be used anywhere. Whether you're at home, in the shop or on the road, this quiet machine won't disturb others around you. It's lightweight, rustproof and impact-resistant, making it even easier to travel with.
The water reservoir, which holds about a quart of water, prevents heat buildup while you work and removes dust particles so you don't inhale any harsh chemicals. Our innovative, durable water tube has a water control valve so you can control the water flow while you work. The black splash guard keeps water off you so you don't get soaked while you work. Cleanup is as simple as it gets: Just flush the bottom water reservoir with clean water and you're ready to work again.
Electricity supply
Make sure you choose the right power supply for your machine. The 220 volt models are available only for overseas customers that require 220V - 240V power supply. All 220 volt models are manufactured with this CE rated, Type F plug (see below):
International customers
We are not responsible for any import duties or customs charges. Any such fees incurred to receive your package are not covered by us. Please consult your country's customs policy for more information.
This Slant Cabber lap machine comes with a rock/mineral accessory kit that allows you to work right out of the box. Our grinding and polishing process makes easy work of finishing quartz, agate, jasper, tourmaline, corundum, opal and a large variety of natural and synthetic gem material. This kit also works well with metals and enamels.
Rock/mineral accessory kit includes
Machine includes
Slant Cabber specifications
Machine dimensions: 13-1/2" L X 15" W X 11" H
Machine weight: 12 lbs
Machine housing construction: rustproof, cross-linked polyethylene
Motor type: 1/4 hp variable speed direct drive motor with speeds ranging between 800 rpm - 3,400 rpm
Motor voltage: 115V or 220V
Country of origin: U.S.A.
Shipped from: U.S.A.
Want to increase the water reservoir capacity?
Our Pro-Flow water cooling system offers two innovative ways to accomplish this and will provide you with hours of drips and use. Choose from either a one-gallon pressure tank or a submersible water pump.
Extended warranty program
You're about to make a smart investment by purchasing a Hi-Tech Diamond Slant Cabber machine so protect it with our extended warranty program. Our extended warranties extend the one-year manufacturer warranty that is included with the Slant Cabber. Choose from either a one- or two-year warranty extension. We recommend purchasing this extended warranty at the same time you purchase your Hi-Tech Diamond machine.
Charmed.
Working like a charm, going to town on the rocks.
Good machine
Clips that hold the spray guard fell off in a week
Hi Gary - We are sorry to hear that the clips are falling off. We encourage you to reach out to us so that we can make this right. Our email address is sales@hitechdiamond.com and our phone number is (630) 596-9909. Thank you and we look forward to hearing from you!
Very nice Cabber
Super quiet, adjusted the splash guard and very little mess.
So far, so good, highly recommend buying some sponge pads also.
It seems to be a quality unit, very happy with this purchase!
I have placed a few orders with hi tech, every order was shipped the next day and complete!
Very happy with the Company and their products!
Very happy with the 6" Cabber
Great price compared to bigger cabbers, quick delivery, easy set up, quiet operation, solidly built, works beautifully. Ive been a high end jewelry artist for 15+ years, but have always purchased my cabs. Finally decided to cab my own. But only YouTube vids for instruction. So I needed something user friendly while still providing excellent outcomes. My first cabs are wonderful! It was a much easier process than I ever anticipated. This is perfect for the beginner, but I can see me sticking with it for the long haul. If the diamond lap wears down quickly, the overall replacement expense can be a deal breaker. I purchased additional smoothing disks and foam backers. Had heard the water system was less than desirable, but the user sheet suggested aiming the water spout to the 6 o'clock position and this starts water flow. It works every time. Try this before you purchase an alternate system. I've never tried the high end cabbers, but I would definitely recommend this one. recommend this cabber.
Does amazing work.no issues yet. Highly recommend.